Hi everyone, today I am here with a little inspiration card emphasizing that we must work together to find a cure, Together We Can Do It! I have used an image from one of our fabulous sponsors Fresh Brewed Designs - imagine two girl friends sitting and chatting about the importance of BCA over cups of cappuccino.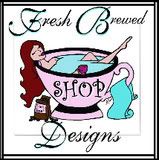 Did you know There are 2 stages of very early breast cancer or as it is called Stage 0.

This very early stage of the disease is sometimes interpreted as a precancerous condition. In stage 0, there is no evidence of cancer cells breaking out of the part of the breast in which it started, or of getting through to or invading neighboring normal tissue.
There are two types of breast cancer in situ: ductal carcinoma in situ (DCIS), also called intraductal carcinoma, and lobular carcinoma in situ (LCIS).
DCIS refers to cancer cells in an area of abnormal tissue in the lining of a breast duct. If DCIS lesions are left untreated, over time cancer cells may break through the duct and spread to nearby tissue, becoming an invasive breast cancer.
LCIS refers to abnormal cells in the lining of a breast lobule. These abnormal cells seldom become invasive cancer. However, their presence is a sign of an increased risk of developing breast cancer.
Hugs and thanks for visiting,
Beth